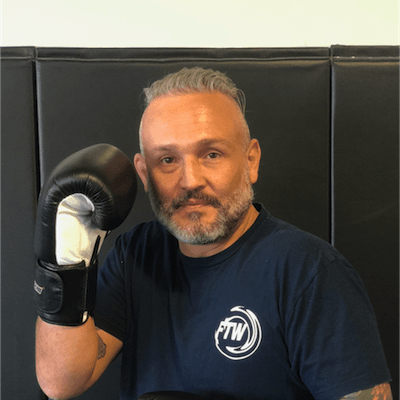 Carlos Charlie Canales
Muay Thai/Judo Instructor, Assistant Jiu-jitsu Instructor
Kru Carlos A. Canales started martial arts at the young age of 12 studying Goju Ryu Karate, and later Aikido & Aikijutsu. In 1999, Carlos started his Muay Thai training with Sensei/ Kru Walter Alvarado and has obtained from his professor a Second Degree Black Belt (western rank). Carlos always worked as assistant instructor for Costa Rica Kickboxing (training and teaching from 1999 to 2009), learning from his coach all the fighting secrets and teaching techniques of Muay Thai. In 2004 started his Judo and Japanese Ju Jitsu path under Shihan Guillermo Guzman Hernandez (Kambujutsu Academy), receiving his blue belt in Judo and Ju Jitsu in 2009.
In 2009, Carlos, opened his own martial arts academy in Costa Rica with his friend and professor Sensei Luis Soto Duran Head Instructor of the Danzan Ryu Kodenkan for Costa Rica. In 2013 he obtained Danzan Ryu Judo & Ju Jitsu Kodenkan Self Defense Brown Belt, and later, in 2015, was promoted to black belt in the same system.
In 2010 signed up his dojo to Mauro Sergio de Oliveira Brazilian Jiu Jitsu, pioneer of the Brazilian Jiu Jitsu in Costa Rica and IBJJF World Champion, and obtained his Brazilian Jiu-jitsu blue belt in 2012. Carlos has competed regularly in several styles of martial arts with a good deal of success.
In 2013 Carlos A. Canales moved to North Carolina. Carlos has become a member of the Fight to Win family, and is a great asset to the team. In addition to continuing his own training, he regularly assists with the kids classes, helping to develop the next generation of Jiu-jitsu practitioners. Carlos earned his purple belt in Jiu-jitsu under Steve Hall/Jon Plyler in January, 2016.