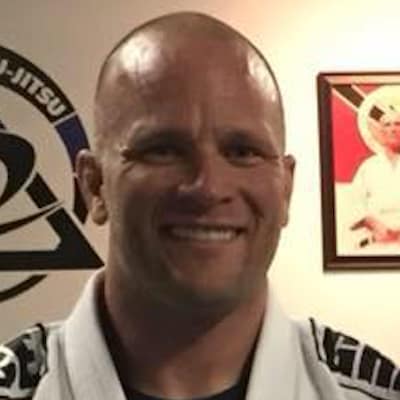 Steve Hall
Fight to Win Team Leader
Beginning his journey in the martial arts at the age of 11, by 17 Steve had earned his first black belt in Tae Kwon Do. After moving to Florida, he started training Judo and Brazilian jiu-jitsu (BJJ) with Bill Murphy and Marcio Simas and received the blue and purple belts under the Gracie Barra system. Bill stepped down and 2nd Degree Royce Gracie Black Belt, Charles dos Anjos, took over as head instructor of the Florida school. Under his tutelage, Steve received the brown and black belts from Master Royce Gracie. For the past 12 years, Steve has focused most of his training on BJJ, Judo and American Wrestling. In October of 2006, he was awarded the rank of black belt by Master Royce Gracie, the son of the founder of Gracie Jiu Jitsu(GJJ), Grand Master Helio Gracie (1913-2009).
At the time Steve was only the 9th Royce Gracie black belt given in the world. Steve is currently very competitive in the jiu-jitsu community, placing in many regional and international tournaments and competing in invitation-only superfights. He supports the growth of the sport as an active competitor and the head referee for the North American Grappling Association. He has been traveling internationaly with NAGA for over 10 years, as well as teaching seminars to the competitors for many of the tournaments. Steve also teaches seminars to many Royce Gracie network schools, several local schools and Miltary and Law Enforcment in North Carolina, South Carolina, West Virginia, Virginia, Maryland and Florida.
Steve has also competed in several mixed martial arts (MMA) competitions with an amature record of 4-1 and pro record of 3-2.